Life, in and of itself, is a beautiful adventure. Yet in my life I have been blessed to have some truly incredible adventures in the more traditional sense— traveling to far off, exotic places to create beautiful images. The editorial I am sharing with you here is one of my favorite fashion editorials to date. It reminds me of the images that first excited me as I flipped through the pages of fashion magazines for editorials when I first became attracted to fashion photography. Stunning models in incredible locations with breath-taking clothing— that all seemed like a far off dream less than 5 years ago. Now sometimes I can't help but look back at these photos and think about how some of my dreams really have come to fruition. 
The editorial you see here, entitled "Queen of the Desert" was shot in the deserts outside of Dubai last spring, and just ran as an editorial in Noise Magazine (still available on bookshelves in many Barnes and Noble bookstores and specialty magazine shops). I'd love to share a bit of the day with you, so be sure to check out the BTS video so you can get a sneak peek into the creation of these images! 
 For this editorial, the creative team gathered around 4:30am to begin hair and makeup so we could begin our journey to the desert before sunrise. Once hair and makeup was complete, we jumped into two SUVs to begin our pre-sunrise journey. The scene was breath-taking in the morning twilight as we passed the tallest building in the world and began to leave development behind us and move deeper into the desert of the United Arab Emirates. We reached the edge of the desert just after sunrise, and our drivers turned off the developed road and began heading into the empty sands ahead of us. As we began to drive we passed bedouin living areas and eventually left everything behind us but sands. Slowly, huge dunes appeared in the distances and the drivers stopped to let air out of their tires. Once the tires were adjusted we were able to nearly float across the dunes… rearing up over and edge and gliding and whipping down over the side. If you've never done 'dune bashing before' it is a thrill and adventure well worth it! 
We arrived at the dune as the sun had already started to arrive, and the air was still brisk and cool. I set up my composition while the model was being changed, and did my best to create frames that played off of the stunning S curves created by the sands. For this editorial I would shoot 100% natural light. In fact, nearly all of the images used just direct sunlight and light bouncing off of the sand (with only a few shots utilizing reflectors I brought on location). We began in our first location, shooting a few looks making use of the shape of the dunes. We'd then jump back into the cars to move just a few hundred yards away to give us an entirely different set of undulating sand to work with. Though the morning was brisk and cool, by late morning the desert was nearly too hot to sand upon (even creating problems for our model posing!). We were finished well before noon, and headed back to the hotel for naps. I couldn't sleep though— I was too excited about the images I had just created! 
I'm thrilled to share them with you below, and I hope that I communicated the elegance that I sought to share with the poses and shape of the model complimenting the incredible scene.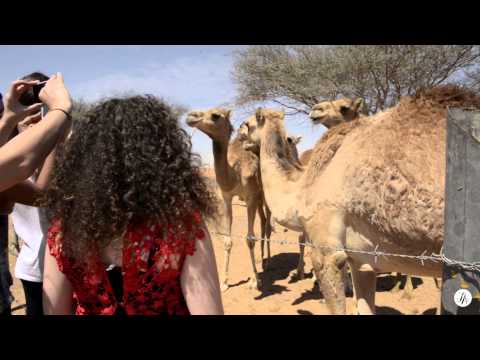 Video editor: Tamara Stampone
Click to enlarge images:
Click images to enlarge
Lighting: 
100% natural light (mostly direct sunlight)
Westcott 30in and 40in silver-white reflector
Gear:
Spider Holster (use code LINDSAY20 at to save 20% off at http://spiderholster.com/single-camera-system/)
Software:
----
Creative Team:
Title: Queen of the Desert
Clothing Credits: 
1 - Sequin dress with hijab by Sorapol London
2 - Lace jumpsuit by Zurad Muhair, waistcoat by Vera Wang, gloves by Sorapol London, shoes by John Galliano
3 - Dress with hijab by Sorapol London
4 - Jacket by Issey Miyake
5 - Dress by Tadashi Sohji, jacket by Jose Duran
6 - Lace dress by Elie Saab
7 - Jumpsuit by Jason Wu, boots by Givenchy
8 - Dress by Tadashi Shoji, leather jacket by Jason Wu, headpiece by Cash Lawless